The VM specification
NO LONGER
makes any reference to JLS (Java Lang Spec)
Project Coin
Strings in Switch
Binary Literals

int x = Integer.parseInt("1100110", 2); ==> int x = 0b1100110;
long anotherLong = 2_147_483_648L;
int bitPattern = 0b0001_1100__0011_0111__0010_1011__1010_0011;

Multi-Catch

catch (FileNotFoundException|ParseException|ConfigurationException e)

Try With Resources

try ( OutputStream out = new FileOutputStream(file); InputStream is = url.openStream() ) {

Diamond Syntax

Earlier: Map<Integer, Map<String, String>> usersLists = new HashMap<Integer, Map<String, String>>();
Now: Map<Integer, Map<String, String>> usersLists = new HashMap<>();
What are the few limitations of Java 6 I/O?
What are the few limitations of Java 6 I/O?
Performance
There is no direct class or method support for navigating directory trees
There is no way of detecting and dealing with symbolic links
It's not possible to read the attributes (such as readable, writable, or execut- able) of a file in one easy operation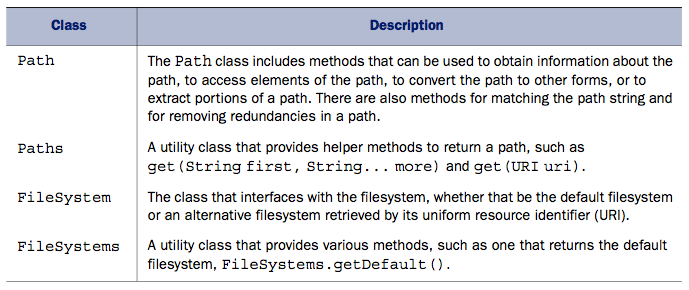 DirectoryStream Interface: try (DirectoryStream<Path> stream = Files.newDirectoryStream(dir))
FileVisitor Interface: SimpleFileVisitor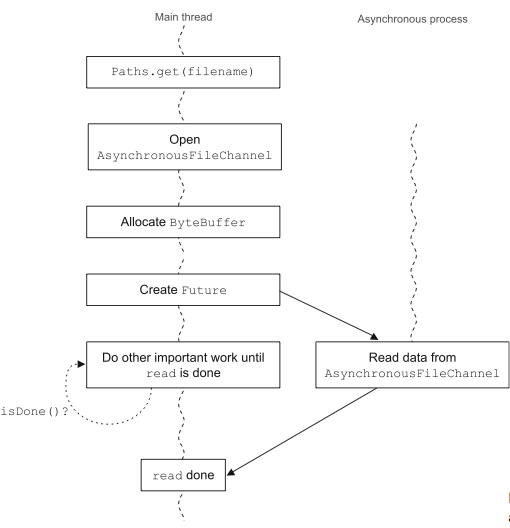 Use the Future objects isDone() method
Event style programming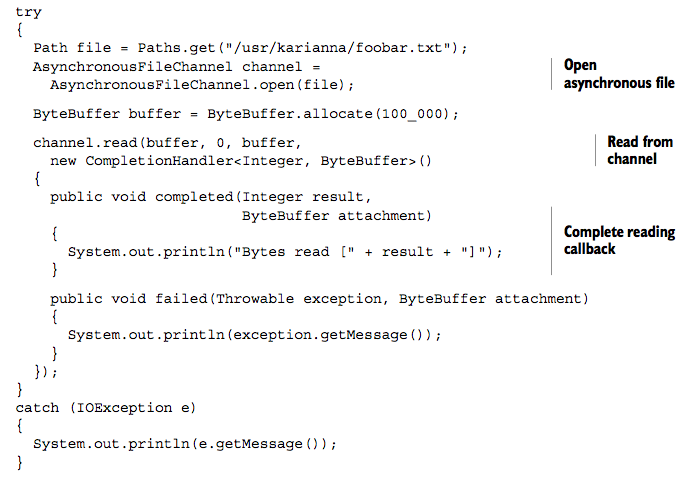 Main usecase: large files
Sockets: AsynchronousSocketChannel, AsynchronousServerSocketChannel
Why do we use Spring framework?
What is the main feature that frameworks like Spring/EJB provide?
Why do we use Spring framework?
What is the main feature that frameworks like Spring/EJB provide?
Inversion of Control
Dependency Injection
JSR-330
javax.inject
@Inject, @Qualifier, @Named, @Scope, and @Singleton
Guice 3 is the full RI for JSR-330
A static block takes a lock on what?
A static block takes a lock on what?


'Class' object
A method takes a lock on what?
A method takes a lock on what?


this
A static method takes a lock on what?
A static method takes a lock on what?


'Class' object
Are locks in Java re-entrant?
Are locks in Java re-entrant?


Yes. thread holding a lock that encounters a synchronization point for the same lock will be allowed to continue
JMM: Synchronizes-with: "releases happen before acquires"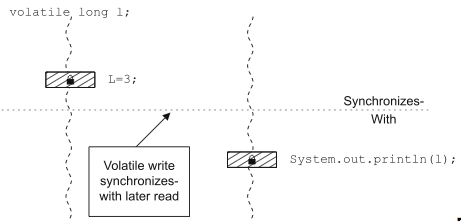 JMM: Happens-before: usecases: program order and synchronizes-with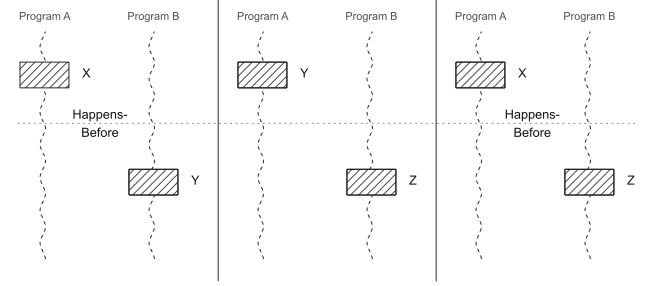 Features of Java JMM
Objects can be easily shared between all threads
Objects can be changed by any threads that have a reference
thread scheduler can swap threads on and off cores at any time
Methods must be able to be swapped out while they're running
Objects can be locked
Concurrency Design Concepts
Safety: self consistent regardless of operations
Liveness: eventually progresses or fails
Performance
Reusability
Please explore java.util.concurrent package
Classloading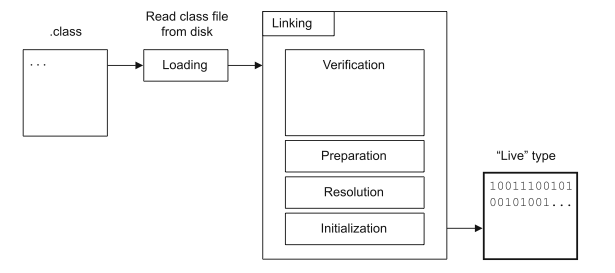 Classloaders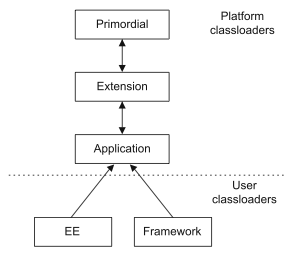 Method Handles and Method Types
java.lang.invoke
Logger lgr = LoggerFactory.getLogger(MethodHandles.lookup().lookupClass());
Better than reflection and proxies
Within Class Files...
Java has 200 opcodes - each is a SINGLE byte
Bytecode goes through JIT => conversion to machine level code
Types of opcodes:

Load and Store
Arithmetic
Execution control
Invocation - method calling - invokedynamic
A Digression into Performance
What is LATENCY?

Latency is the end-to-end time taken to process a single work-unit at a given workload
What is THROUGHPUT?

Throughput is the number of units of work that a system can perform in some time period with given resources
What is UTILIZATION?

Utilization represents the percentage of available resources that are being used to han- dle work units, instead of housekeeping tasks
What is EFFICIENCY?

The efficiency of a system is equal to the throughput divided by the resources used
What is CAPACITY?

Capacity is the number of work units (such as transactions) that can be in flight through the system at any time
What is SCALABILITY?

Change in throughput or latency as resources are added is the scalability of a system
What is DEGRADATION?

At what point and by how much the scale begins to tip
Memory speed has improved more slowly than CPUs have added transistors, which means there's a risk that the processing cores will fall idle due to not having the relevant data on hand to process

Memory Latency Hierarchy
Registers
L1, L2, L3 Caches
RAM
SSD
HDD

Hardware techniques like instruction-level parallelism (ILP) and chip multithreading (CMT), were used to try to keep the CPU operating on data, even in the face of the widening gap between CPU capability and memory latency
So, a large portion of CPU power is consumed in caching and data-locality and NOT in application processing
This means the future of application performance is intimately tied to good concurrency programming - get your skills right
Clocks


How many exist? And how do you get them?
Clocks
RTC (Real Time Clock) - Keeps running when PC is switched off
8254 - System.currentTimeMillis()
TSC (Time Stamp Counter) - System.nanoTime() - good only for delta's
HPET (High Precision Event Timers)

And these clocks DRIFT AWAY
Areas of Memory


How many exist?
Areas of Memory
Eden - Young Gen
Survivor - Young Gen
Tenured - Old Gen
PermGen - Not actually Heap
Garbage Collection (GC)


How many exist?
Garbage Collection (GC)
Serial Collector
Parallel Collector: Use the cores! But... still... STW
Parallel Compacting Collector: Mark, Summary, Compaction - Old Gen Special, Regions within generations, Density calculation
Concurrent Mark and Sweep Collector: Initial Mark, Concurrent Mark, ReMark, Sweep

False Negatives Okay - due to concurrent marking
Eventual Full Collections are inevitable

G1 - The new one!
G1
Pause Goals
Regions in Heap itself - non-contiguous heap for each generation
G1 will only collect as many regions as it has time
Any generation can be collected to reach pause goal
Good read - G1: One Garbage Collector To Rule Them All
Least fragmentation with region size config
JVM


How many do you know?
JVM
HotSpot
JRockit
Dalvik
Azul Zing - Dr. Cliff Clicks JVM
Wiki - http://en.wikipedia.org/wiki/List_of_Java_virtual_machines
Polyglot Programming
Groovy
Scala
Clojure
And the CRAP - JRuby, Jython, Rhino
Polyglot



My Hypothesis
Learn Concurrency, else you will perish
Java will Shrink in JVM. Are you ready?
Talk Numbers. Else, someone who can, will get the better job